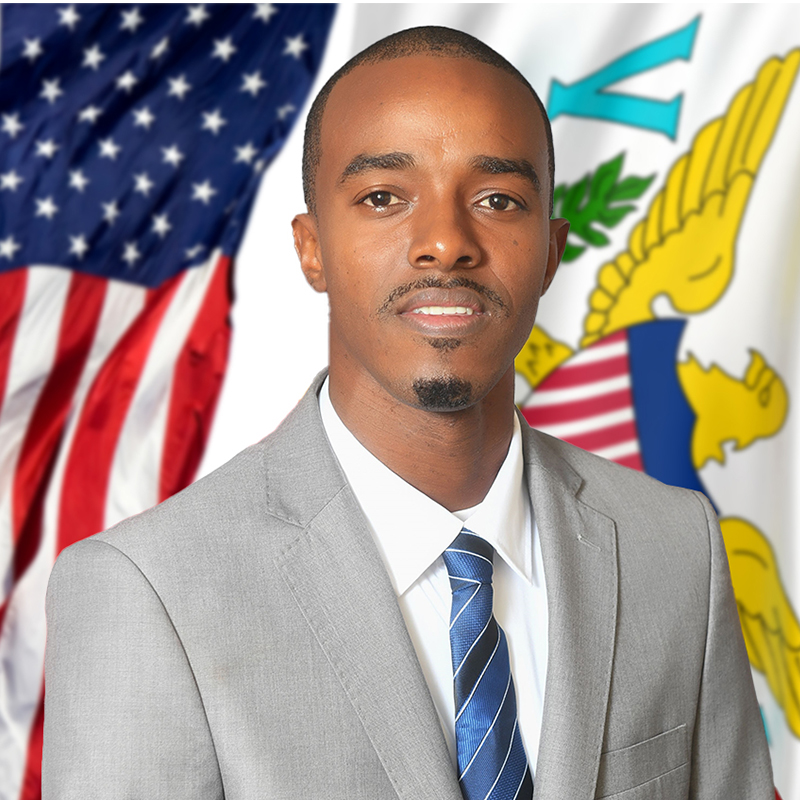 St. Croix
Senator Javan E. James
Phone:

(340) 712-2246

E-mail:

senatorjjames@legvi.org

Address:

3022 Estate Golden Rock Christiansted, St. Croix, VI 00820
Javan E. James, Sr. was born on the island of St. Croix on July 7, 1987 to parents Jonathan E. James, Sr. and Marilyn V. Martin. He is the second born with his two other siblings. James grew up in St. Croix where he attended the Pearl B. Larsen Elementary School, Elena L. Christian Jr. High School, and St. Croix Educational Complex High School where he took three years of Electronic Courses before receiving his high school diploma on June 6, 2005. On September 11, 2006, he landed his first job at the Hovensa LLC Refinery as a certified Process Operator. After three months of hard work, James completed and graduated from the Basic Operator Training Program. On November 14, 2008, James received his Hovensa Wastewater Treating Plant Certification.
In August of 2012, James enlisted in the U.S. Air Force in the state of New York. He graduated from basic military training with flying colors at the Lackland Air Force Base in San Antonio, Texas. James completed an intensive, eight-week program that included training in military discipline and studies, Air Force core values, physical fitness, and basic warfare principle skills. James went on to receive his technical training at Goodfellow Air Force Base to become a firefighter. Unfortunately, he was faced with some obstacles and health concerns in which he was medically disqualified for reasons beyond his control. He was honorably discharged from the military.
In 2014, James gained employment as an Administrative Assistant at the Loft Condominium in the State of Florida while working a second job. It was only a matter of time until he became homesick while living on the mainland. He then relocated back to the U.S. Virgin Islands in the summer of 2014. Moving back to the island of St. Croix was the best decision he ever made. James met his beautiful wife, Shemira M. James, in October of 2014 on the island of St. Croix. Together they have three amazing children by the names of Ameira, Janess and Javan E. James, Jr. Without a doubt, he continues to put his family first and set an example for our young men in the community. You can find him almost everywhere with his family when he is not occupied with work. He is known to many in his hometown as Super Dad!
James' father was well known for being involved in politics and serving his community. His father would take him around during each election and expose him to the world of politics from a very young age. James is no stranger to the world of politics. He took part in two successful political campaigns since moving back home in the year 2014. It is there that James fell in love with becoming a public servant. His political journey really started while working as an Administrative Assistant in the 31st and 32nd Legislature of the Virgin Islands from January 2015 to July 2017. His responsibilities as an Administrative Assistant were scheduling, record keeping, public relations, serving as a caseworker for constituents and time keeping during each senate hearing. James took advantage of this great opportunity and remained hungry to learn more.
James is a role model and mentor for many since moving back to the islands. He would visit the schools regularly to speak to the students, volunteer his time in the community, voice his concerns on the radio talk shows and take advantage of every opportunity to serve his people. In February of 2016, James started the movement called Super Dad 340. The Super Dad 340 team provides youth mentoring, motivational speaking and quality merchandise for parents in the U.S.V.I. The mission of the group is to advocate for the fathers in the community. James have held four successful annual Father's Day ceremonies, in which he honored several groups of fathers on the island of St. Croix. June 2020 will mark the 5th Annual Super Dad 340 Ceremony. James continues to be a great role model while giving back to these beautiful U.S. Virgin Islands.
On Tuesday, November 6, 2018, Javan E. James was elected as the youngest Senator to serve in the 33rd Legislature of the Virgin Islands at the age of thirty-one. James currently serves as the Chairman of the Committee on Youth, Sports, Parks and Recreation in the 33rd Legislature of the Virgin Islands and Vice-chair of the Committee on Culture, Historic Preservation and Aging. Senator James was recently nominated as a candidate for the upcoming 2020 Democratic Primary Election in the U.S. Virgin Islands.