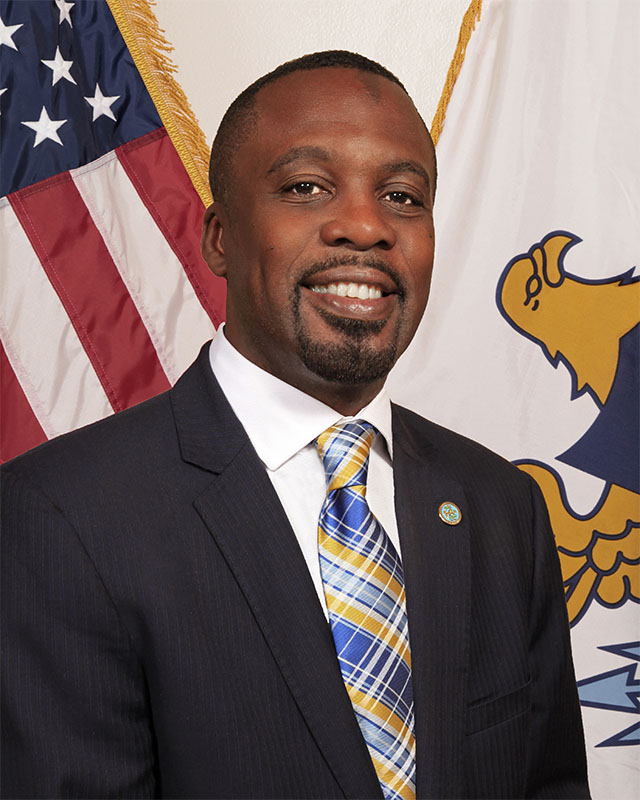 Majority Leader
Senator Marvin A. Blyden
Phone:

(340) 774-0880 ext. 3567

E-mail:

mblyden@legvi.org

Address:

Capitol Building, Charlotte Amalie P.O. Box 1690 St. Thomas Virgin Islands, 00804
The 11th of 13 children born to Mayrose and James Blyden, Sr., Senator Marvin A. Blyden grew up in the Nadir community and is a proud product of the Virgin Islands public school system. In 2017 Senator Blyden attended the Robert J. Thompson Leadership Academy in Connecticut where he received a Certificate of Completion. His extensive management experience includes Training Manager at Pepsi, Co, for 5 years upon graduating from the Dickerson Business School in Tulsa, Oklahoma; Manager of the Food and Beverage division of the Frenchman's Reef Hotel & Resort; a small business owner for over 20 years; and for over 20 years Senator Blyden was employed as Housing Manager and District Manager at the VI Housing Authority before being elected to the Legislature.
Married to Jacqueline Modeste Blyden for 30 years, a father of three grown children and grandfather of six, Senator Blyden finds success in a grounded family life that allows him to serve his community well. Known as a natural-born leader, Senator Blyden is driven and optimistic, always willing to uplift those around him.
In the community, Senator Blyden served in diverse capacities to include little league football coach, Zero Tolerance basketball coach, Contractor, Consultant, and Motivator. He is known to put others before himself, and he believes that we have a sacred responsibility to positively impact people, their families and the community.
Since in office, Senator Blyden has annually raised funds for college-bound graduating high school students through his annual "V.I. Women United to Empower Scholarship Prayer Breakfast" fundraising program. To date, the Marvin A. Blyden Scholarship has received and distributed over $60,000 in grants to graduating students.
Annually, Senator Blyden holds a Senior's Brunch, a Back-to-School Backpack Giveaway and a Toys for Tots Christmas giveaway for the St. Thomas St. John community. He has also co-sponsored/co-chaired the US Virgin Islands/Caribbean Emergency Housing and Safe Waste Summit and hosts a popular bi-weekly radio show on WSTA, "the people's station. Additionally, Senator Blyden was voted best Senator by the Virgin Islands Daily News readers for two consecutive years 2017-2019.
Now serving his fourth term, Senator Blyden is the Chairman of the Housing, Transportation, Infrastructure, and Telecommunications in the 34th Legislature of the Virgin Islands. Some of the highlights of his accomplishments in this term have been the passage and introduction of landmark legislation to protect our shorelines, to protect the safety of residents banning future development of gas stations within 1000 ft. of residences, to protect VI homeowners from improper liens for work performed under emergency repair programs, to protect Virgin Islands veterans, and to provide protections and benefits for Virgin Islands workers and residents during the COVID-19 pandemic. He has also successfully advocated for the extension of potable water lines in residential neighborhoods on St. Thomas and St. John. He believes there is a solution to every situation—thus his political slogan "Your Choice for Solutions."