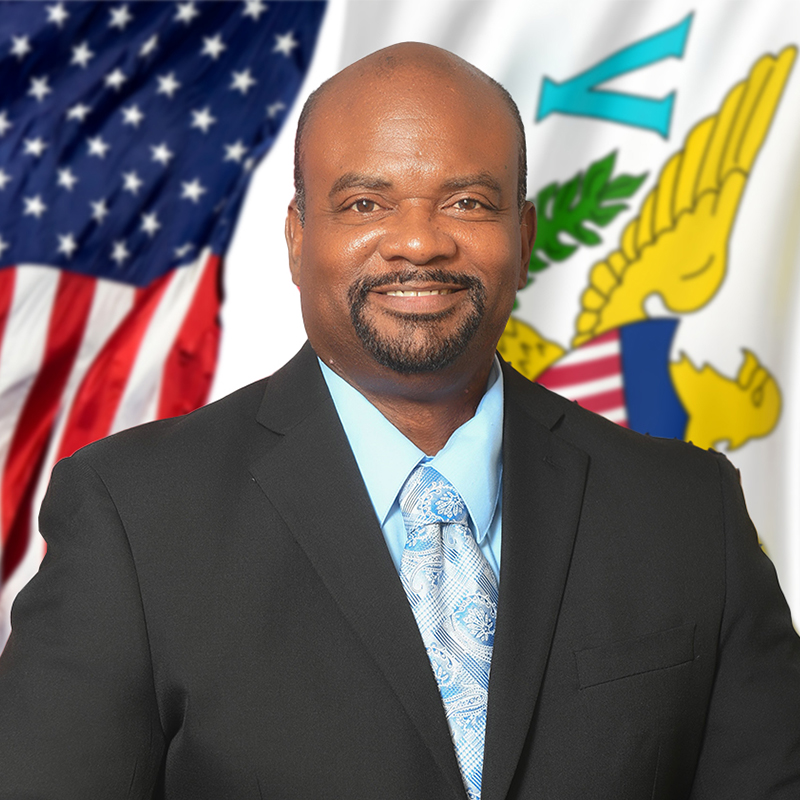 Senator-at-Large
Senator Steven D. Payne, Sr.
STT Phone:

STT (340) 774-0880 ext. 3571

STX Phone:

(340) 712-2278

STJ Phone:

(340) 693-8061

E-mail:

spayne@legvi.org

Fax:

(340) 776-6233
Sergeant Steven Payne is the son of Ms. Deanna Rogers and his siblings include the former Senator Clarence Payne, Lauren Harris and Joanne Payne.
Steven Payne attended Leonard Dober and Joseph Gomez Elementary Schools, Bertha C Boschulte Junior High School and Ivanna Eudora Kean High School on St. Thomas. Upon graduating from high school, Mr. Payne volunteered for one school year at his alma mater Ivanna Eudora Kean as the interim band director. This band program continues to be successful to this day.
Steven Payne attended Norfolk State University in Virginia where he obtained a Bachelor of Science degree in Public School Music Education in 1993. After graduation, he returned home to teach at Gomez Elementary School, where he realized that the students, especially the males, were getting into most of their conflicts in the morning before school started, at lunch time, and after school was dismissed. In an effort to prevent these students from gravitating towards undesirable behaviors, Mr. Payne encouraged at-risk male students to become part of the band program. They were now required to attend rehearsals in the morning, at lunch time and for an hour after school. Conflicts between males on the campus were greatly reduced due to this strategy. Mr. Payne was able to assist many students by keeping them engaged in structured activities while at the Gomez school. However, when they moved on to junior high school, some of them would revert to their negative behaviors which led to numerous suspensions and eventually dismissal from school. Mr. Payne recognized that there was no follow up program for these young male students, so he transferred to the Addelita Cancryn Junior High School in an attempt to assist with this transitionary period.
Once at Addelita Cancryn Junior High School, he started the school's first marching band which had 250 students. The band started with students who primarily hung out in the halls, got into fights and were constantly being put out of class for their negative behaviors. Mr. Payne understood that if these young males were going to succeed they were going to have to be placed in a program that taught them discipline and self-worth – hence the birth of the Addelita Cancryn Marching Iguanas. Mr. Payne utilized his training to bring together young people who were engaged in neighborhood rivalries and taught them how to work together regardless of the neighborhoods in which they resided. These students were placed in Beacon School, an after school program, where they were tutored in subject areas that they were struggling in. They also attended rehearsals in the mornings before school, at lunch time, after school and on Saturdays from 9:00 am until 12:00. The majority of the students were able to improve their grades and graduated because they were enrolled in a meaningfully structured after school program. However, similar to Gomez School, since there was no follow through program, some of the young men moved on to high school and fell through the cracks and became involved in drug use, neighborhood rivalries, fights and eventually dropped out of school. Unfortunately, some of them became detainees in the Youth Rehabilitation Center (YRC). Mr. Payne decided to join the Virgin Islands Police Department (VIPD) where he attained the rank of Sergeant. While at VIPD, he implemented a comprehensive program for at-risk youth.This program was designed to address students educational, social, physical, psychological and emotional growth – hence the birth of the Juvenile Delinquency Prevention Program (JDPP). This program catered to the whole child/young adult. The young people in the program received individual and family counseling from trained professionals. They were enrolled in tutorial programs to assist them with their school work. Several professionals from our community were invited to speak on career and life choices. The students entered the program from fifth grade and remained until their senior year.
In total Mr. Payne started eight youth programs. They were the Gomez Golden Stars, The Addelita Cancryn Marching Iguanas, Kings of the World Summer Enrichment Program, The JDPP Marching Kings, The JDPP Jammerz, The Marching Cougars, The Marching Gulls and the VI Avengerz. These programs attempted to eliminate delinquency at home, at school and in the community.
Sergeant Steven Payne has proudly served over 18 years in the Virgin Islands Police Department.