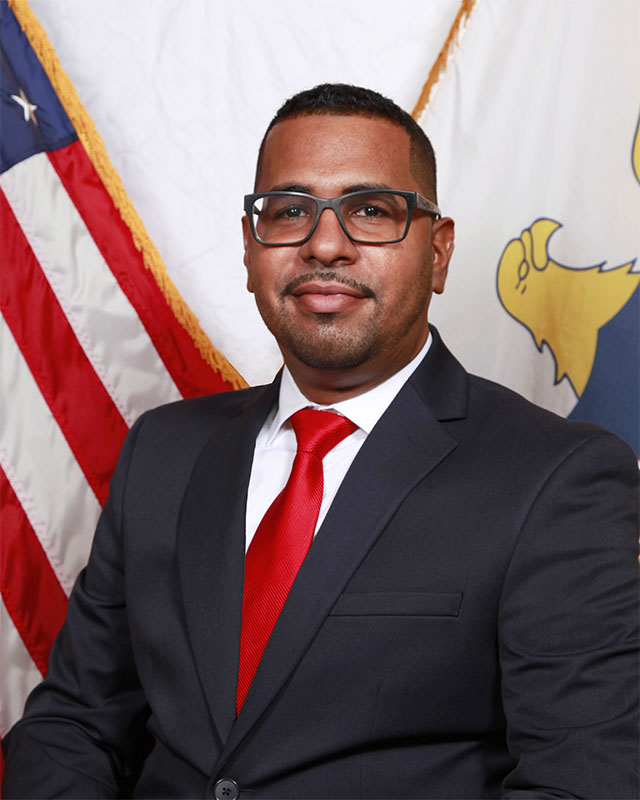 St. Croix
Senator Samuel Carrión
Phone:

(340) 773-2424 ext. 2209

E-mail:

scarrion@legvi.org

Address:

3022 Estate Golden Rock Christiansted, St. Croix, VI 00820
Born and raised on the beautiful and historic island of St. Croix, Samuel "Sam" Carrión is the son of Antonio Díaz Carrión and Dominga Espinal Santiago. He is the proud father of four– three daughters and one son.
Sam remains grateful to the people of St. Croix for electing him to serve as a member of the 34th Legislature, where he will utilize his experience in the private, public, and non-profit sectors to work towards enhancing the quality of life for all Virgin Islanders. It was his personal dissatisfaction with the current status quo and the desire to do more for the citizens of St. Croix that prompted Sam's decision to run for office in 2020.
Mr. Carrión joined the Communications team at Government House in 2015, where his duties included Hispanic community outreach and initiatives to promote partnerships between local clergy and the Government. Following Hurricanes Irma and Maria, Samuel was commissioned to help coordinate relief efforts and served as a Senior Policy Advisor for the Office of the Governor.  As the liaison for intergovernmental affairs, Sam worked closely with the Legislative, Congressional, federal Government and international non-profit organizations, which include the Clinton Foundation.
As an entrepreneur, Sam has operated several small business enterprises on St. Croix and was most recently a Safety Supervisor at Limetree Bay Terminals. Samuel utilized his translation and organizational skills as an interpreter and judicial assistant at both the Superior and District Courts of the Virgin Islands to provide aide for those who have been underserved in our community.
He has long been active in many community organizations to include the American Red Cross, VI Domestic Violence Sexual Assault Council, VIPR Friendship Committee, Dominican Action Committee, Crucian Educational Non-Profit Group, VI Clergy Peace Coalition and Casa Profetica de Adoracion.
Mr. Carrión is a graduate of St. Croix Central High School, Sam holds Bachelor's degrees in Business and Theology. He is also certified as a legal interpreter.
Sam's message remains one of hope, compassion, respect and commitment to all Virgin Islanders. Samuel would like to express gratitude to the community for affording him the opportunity to serve in such a capacity, reminding the past doesn't depict our future; we can make it through this difficult period together " No man is an Island". .