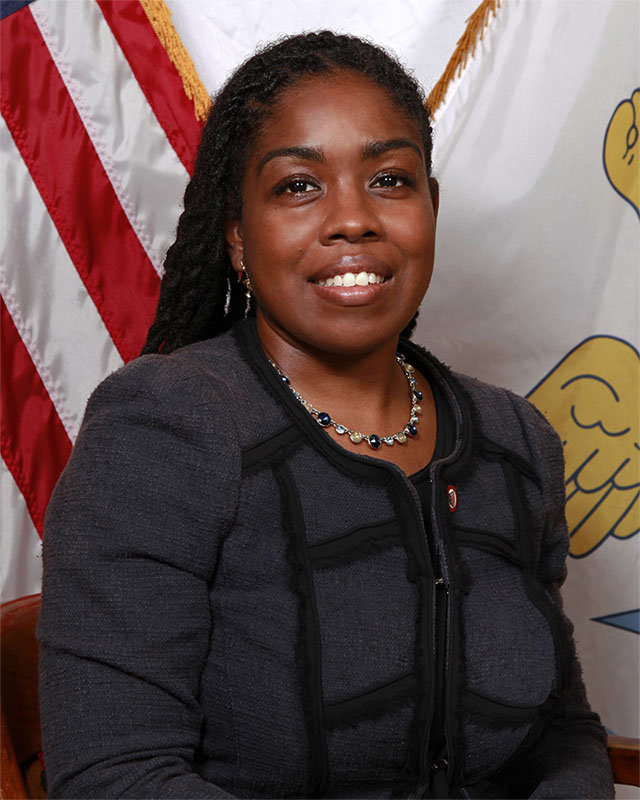 Secretary
Senator Genevieve R. Whitaker
Phone:

(340) 773-2424 ext. 2379

E-mail:

gwhitaker@legvi.org

Address:

3022 Estate Golden Rock Christiansted, St. Croix, VI 00820
Genevieve Whitaker was born and raised on the beautiful island of St. Croix, Virgin Islands (U.S.).  Genevieve is a second-generation Virgin Islander who was raised by her grandmother, Genevieve Browne, who served as an educator. Genevieve is also the proud mother of an 12-year-old boy, named Yiore. Genevieve's mother, Sharon Browne (Gonzalez) is a computer programmer and father, Erik Whitaker who died when Genevieve was nine years of age, both served in the U.S. military, in the army. Genevieve was raised within a strong family circle, Genevieve is the granddaughter of Wesley Browne, Sr., a contractor and owner of St. Croix Construction company and extended family to include having been blessed with four Godparents, the late Randall "Doc" James, the Honorable Donna M. Christensen, Norman Crispin (Modeste), and Sonia Kelly Williams, who has inspired her leadership and activism. Genevieve attended public and parochial schools, graduating from the St. Croix Educational Complex as Magnet and Honor program student. Genevieve holds four degrees, a Bachelor of Arts in Government and World Affairs (the University of Tampa), a Juris Doctor (Stetson University College of Law)a Master's Degree in Political Management (the George Washington University), and a Master's Degree in Strategic Criminal Justice Management (Boston University) and several certificates in Executive Education in the areas of leadership, management, policymaking, nonprofit management and governance, community organizing, digitizing government (e-government) from Oxford University Said School of Business and the Harvard Kennedy School of Government, having completed her studies to receive a Certificate in Public Leadership from the Kennedy School. Genevieve is also a Certified Public Manager of the National Certified Public Manager ® Consortium.
Genevieve has over 22 years of legal experience (working a law firms in Florida and here in the Virgin Islands as well and using her legal experience in jobs that require legal knowledge), over 12 years of owning her own consulting business, serving close to a decade as an Assistant Professor (part-time) at the University of the Virgin Islands, having taught courses taught: Business Law, Elections Participation, Crime Prevention, Juvenile Justice, Communications & Leadership). Most recently, upon her being elected to serve in the 34th Legislature, Genevieve was the youngest to serve, appointed at the age of 30, for just over 7 years as the Deputy Supervisor (St. Croix District) of the Elections System of the Virgin Islands  (elected in April 2016 to serve on the Executive Committee of the U.S. Elections Assistance Commission Standards Board). Additionally, Genevieve currently serves as the Treasurer and Scholarship Committee Chair of the Virgin Islands Board of Career and Technical Education.
In terms of her community experience, Genevieve is also a human rights activist and internationally recognized speaker on political rights, specifically as an advocate for the decolonization of the Virgin Islands has presented on national and international platforms most recently as June 2020.  Genevieve is also a former lobbyist (Florida State Legislative Coordinator) for Amnesty International USA, President & Co-Founder of the Virgin Islands Youth Advocacy Coalition, a civics organization dedicated to civic literacy in the Virgin Islands as well as the matter of decolonization and racial equity. Genevieve returned to her beloved home right after graduating from law school with the desire and zeal to contribute to her homeland and again thanks the people of St. Croix for electing her to serve in the 34th Legislature. Genevieve thanks everyone who has supported her in journey to serve others in the capacity as a Senator in the Virgin Islands of the United States.
Genevieve enjoys meditation, yoga, dance (especially African and Afro-Caribbean dance), the music of many genres and enjoys a holistic way of living in support of her personal and family health as well as that of our environment.