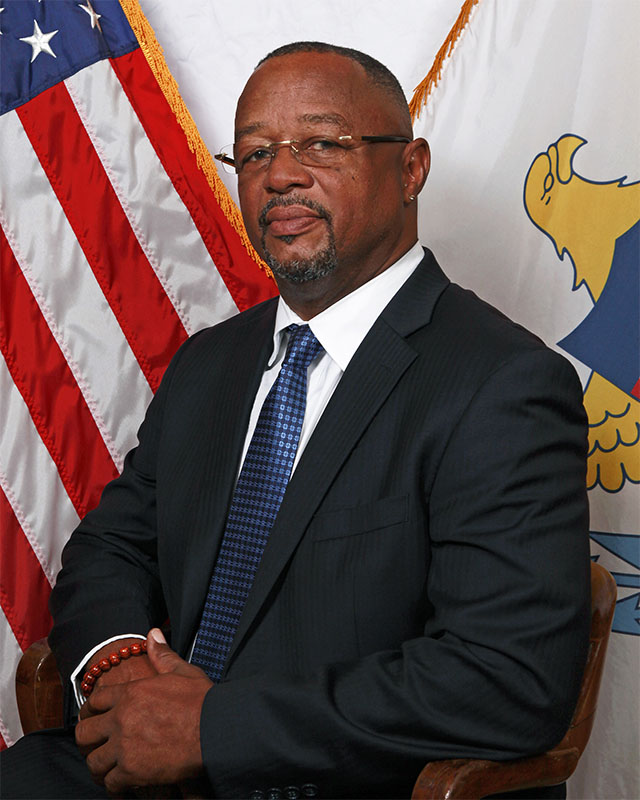 St. Croix
Senator Franklin D. Johnson
Phone:

(340) 773-2424 ext. 2287

E-mail:

senatorjohnson@legvi.org

Address:

3022 Estate Golden Rock Christiansted, St. Croix, VI 00820
Franklin D. Johnson was born on the island of St. Croix to Eleanor E. Sealey and the late Thomas A. Johnson, Sr. both of Frederiksted, St. Croix where he also spent his formidable years growing up in the Marley Project. Franklin, known to many as "Frankie" or "Frankie J.", attended the parochial and public-school systems of St. Croix, the New Jersey Job Corp Training Center, and the Union County Vocational School in New Jersey where he successfully obtained Certification as a Welder. He is one of ten (10) Siblings, the proud father of five (5) Children and three (3) Grandchildren.
Franklin commenced his over thirty (30) year career in Law Enforcement when he joined the Government of the Virgin Islands Bureau of Correction as a Correctional Officer and continued with the Federal Government as a District Court Security Officer (CSO) on the island of St. Croix, until his retirement from Federal service. During his twenty-one (21) year tenure with the Virgin Islands Bureau of Corrections, Franklin held many roles of responsibility including Kitchen Oversight, Inmate Transport, Staff Transport Trainer, Supervisor of the Vocational Shops and the Developer and Supervisor of the Inmate Work Detail and Work Release Program, the latter of which he is the proudest.  The development, implementation and management of the program allowed him the opportunity to touch the lives of over three hundred (300) participating inmates, who were given the chance to understand and correct the errors of their previous life choices.
This community stalwart is known as a small business owner, and most notably throughout the territory for his interaction with the youths of all age groups and his demonstrable love for the sport of Baseball. He volunteers as Umpire at Little League Games throughout the territory and abroad. Franklin is a Member of the St. Croix Umpire Association, participated in the St. Croix and St. Thomas Little League Tournament, Umpired the Big-League World Series and the Little League Caribbean Tournament in South Carolina and Bonaire respectively, and selected and served as the Chief of Championship Game at the Latin Caribbean Big-League Tournament in Guatemala.
Franklin is also known for his willingness to address political and social issues affecting the community and territory. His long-term political zeal provided him with the opportunity to serve for four (4) years as the Senior Policy Advisor on Community Affairs throughout the Mapp – Potter Administration.
As a humble servant, Franklin thanks the people of St. Croix for their support and the opportunity to serve as one of their district representatives in the 34th Legislature of the United States Virgin Islands. He is committed to his Motto, "A Man of Action", to seek and provide opportunities to improve the quality of life and make a difference in the lives of the residents of the St. Croix community.